You Can Please All of the People (Some of the Time)
The true retro sign has become so highly desirable to signage clients, and municipalities alike, that it brings to mind a quote shared by John Lydgate and Abraham Lincoln:
"You can please some of the people all of the time, you can please all of the people some of the time, but you can't please all of the people all of the time."
In other words, it's a special kind of success when you can actually please all of the people! In this case, a nod to the past seems to be just the ticket. Sign companies, of course, aim to please their clients while satisfying the local municipality with jurisdiction over zoning, a building department, historical review boards, area commissions, and the surrounding community at large. It becomes the sign company's job to attempt to please all of the people, all of the time, and that's a pretty big goal to shoot for consistently. It's really nice to know when you've earned an enthusiastic and unanimous thumbs up, and the neon Village Wine & Bistro retro sign recently achieved that feat.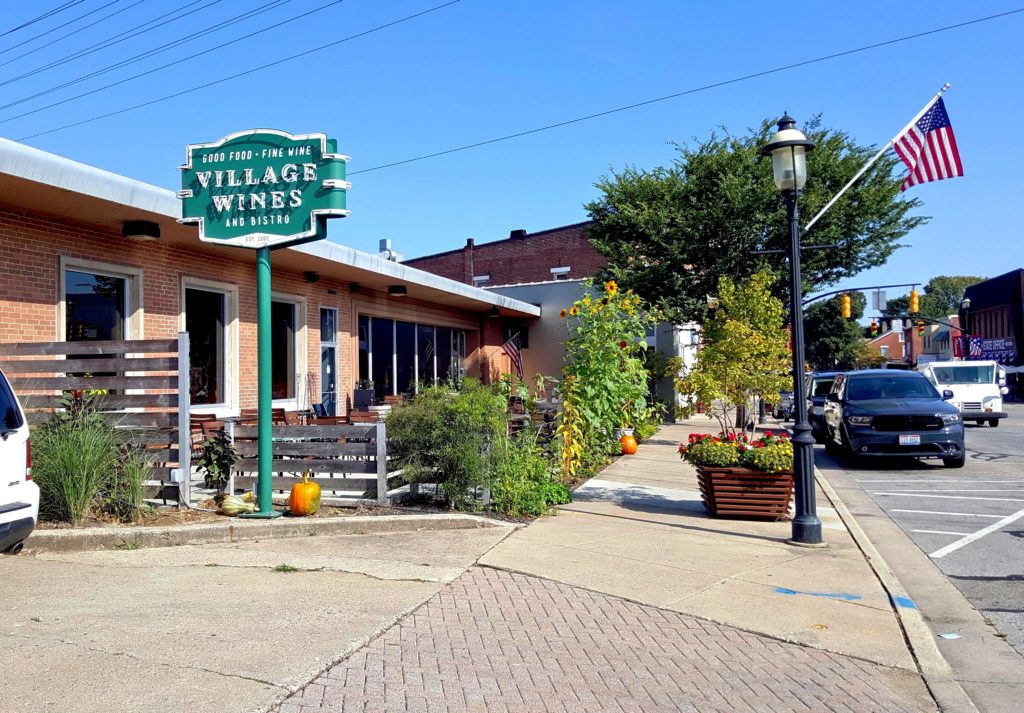 The Village Wine & Bistro Retro Sign (Another Man's Story to Tell)
This sign's story was graciously provided by the client via email to Mark Rubcich, the DāNite Sign Design Consultant who managed the project from start to finish. 
"We purchased the building in October of 2016 and we talked with many " locals " about the building history. As luck would have it met with Earl Cathers about 6 months ago… Earl and his wife Marilyn are family friends and he has a history with the building. Earl's father worked in this building for years, for Ohio Midland Power, and so did Earl, for South Central Power. South Central purchased Ohio Midland years ago. When we visited Earl he had a photo of the original Ohio Midland Sign. We took This photo to DāNite signs to see if they could replicate it EXACTLY (with Village Wines text) because just close would be a problem (since the property is in the Canal Winchester Historic Distric)."
"Mark Rubcich, our DāNite Sign Design Consultant, introduced us to DāNite designers who said yes they could do it. We proceeded with many approvals required by the City of Canal Winchester and the sign is now a reality and perfect!!"
The Sign Story Continues (With a Happy Ending)
"Our sign has received nothing but great comments from the City Fathers and, most importantly, customers and residents. It is our hope that if this sign is posted, DāNite puts up a picture of the original sign and what they made. Its really, really special. Village Wines and Bistro could not be happier. We should add that a large portion of this success is due to Meredith Dixon of Studio Dixon. She coordinated the colors, font, and text for the final design with DāNite."

                                                                                                                                            – Village Wines & Bistro
Give 'em a Whirl (when you're in CW)
Next time you're in Canal Winchester, go sample the fare. Owner Rex Weiser, is the chef at Village Wine and Bistro. If you check out their Facebook page, chef Rex has received some pretty high compliments, and the pictures of the food look amazing. Look for the retro sign… apparently you can't miss it!
Written By:  Jennifer Bender
DāNite Creative Director & Project Manager
614-444-3333 x216