Parking Lot Lights Columbus Ohio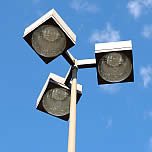 Working lot lights and building security lights in your parking areas are crucial to your business and the safety of your customers and clients. The DāNite Service Team is standing by to ensure your lot lights are in full operation through emergency or regularly scheduled service. Simply call the Team as needed or let them work with you to develop an arranged lot light replacement schedule.
This service is also available through our sign maintenance agreements and is completed in connection with regularly scheduled cleaning and inspection of signs and electronic message centers.
The DāNite Service team will replace lamps, fuses and ballast kits and clean lenses as needed as part of this lot light service.
In need of lot light replacement services? Contact the DāNite Team today! DāNite Sign Co. is the premier sign company chosen for lot light replacement in central Ohio and the surrounding communities. Please complete the online form to request your free quote or obtain more information about our lot light services.