Digital Displays for Advertising Columbus Ohio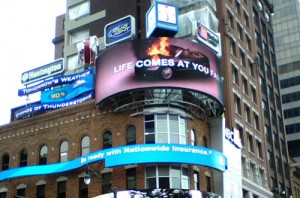 Digital signage is a versatile and effective way for your organization to attract new and existing customers. DāNite Sign Co. has been in the sign business since 1954. We not only witnessed the introduction of digital signage, but we have seen it grow into an effective advertising option for many organizations. Accommodate your business's ever-changing message today with adaptable and attractive digital signage from DāNite Sign Co. Contact the top Columbus digital sign company for more information.
Digital Signage is Versatile
The best part about digital signage is its versatility and ability to change in order to capture and recapture the public's attention. With a digital sign from DāNite Sign Co., you can schedule a display change or change it on the fly with easy-to-use software.
These energy-efficient and low-maintenance signs allow you to announce new sales, specials, and messages so you can stay ahead of the competitors whose signs boast the same display day after day. Digital and LED signage displays open up a world of new advertising opportunities by allowing you to upload an eye-catching combination of text, photo-realistic graphics, animations, and videos.
Take your business's marketing to the next level with one of the many brands of digital video displays and electronic message centers that DāNite Sign Company offers, such as:   Daktronics,  Watchfire, and many others. Our fantastic relationship with these manufacturers enables us to provide our clients with the best deals.
A DāNite Sign Design Consultant can help you determine which brand best fits your business's needs. Plus, they will take care of the research on your local municipality's message center rules and apply for the required permits, making the whole convoluted process a breeze!
Electronic Message Centers
Electronic message centers utilize a collection of RGB LED modules to produce an eye-catching image guaranteed to grab the attention of potential customers. You can change the display on your electronic message center to announce sales, specials, and other interesting and important information. After all, a changing sign is a noticed sign. It's the very definition of dynamic!
Digital Video Displays
Digital video displays use either LEDs or LCDs to produce a higher-resolution image. As such, they are a better option for indoor signage and often serve as food menus, directories, and information stations. Digital video displays can be used in both indoor and outdoor applications.
Digital Signage Works for Everyone
We have seen digital signage work wonders for organizations across different industries. We have installed LED signage for churches, car washes, auto dealers, pharmacies, movie theaters, casinos, sports arenas, banks, restaurants, zoos, retail stores, and so much more.
Top Columbus Digital Sign Company
DāNite Sign Co. has a time-tested reputation that spans more than six decades. Since 1954, we have strived to provide central Ohio organizations with signage that allows them to stand apart from their competition. In today's world, digital and LED signage is the best way to grab the shrinking attention span of the busy public.
Whereas most sign companies subcontract their work, we pride ourselves on doing everything in-house. We have the teams and expertise to handle everything from design and fabrication to installation and maintenance. You can count on us to take care of every step in the process.
Our job doesn't stop once your new sign is installed. The service department at DāNite Sign Co. is one of the best, and they are always available to address any problems you have with your new digital or LED signage display. Whether it's a one-time service call or a longtime service agreement, we are here to ensure your sign works long after the initial installation.
When it comes to digital sign companies in Columbus and across the country, nobody does it better than DāNite Sign Co. Every day we strive to uphold our outstanding reputation by providing the best service and products in the sign industry. If you need digital signage for your company, we're ready to make it happen. Contact us to speak with a consultant and see the difference an electronic message center or digital video display can make for your business.