We did it! We opted for a signage upgrade.
Our signage upgrade was a great decision, but it's not the first time. The DāNite highway sign has been through multiple upgrades over the years. Check out the short video at the end of this article!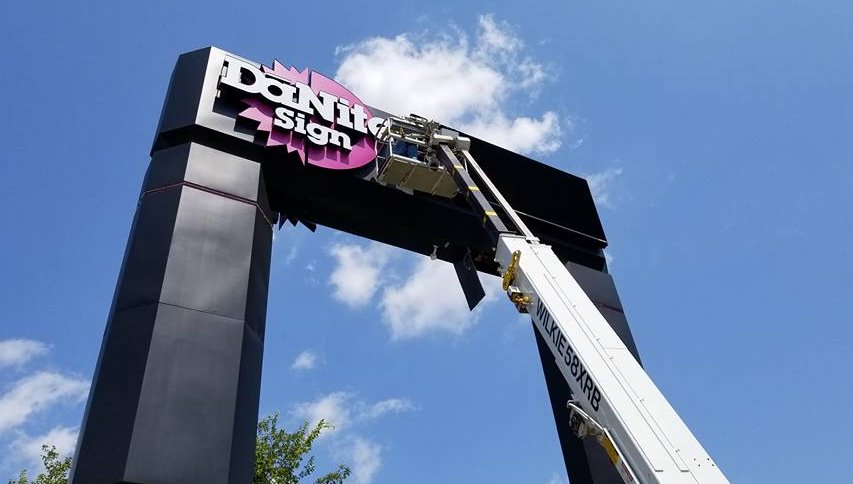 Why a Signage Upgrade is SO Important
DāNite Sign Company advises clients to budget for an occasional signage upgrade or refresh every handful of years. Your sign is the face of your business, working 24/7 to grab the attention of paying customers. It says a lot about the character of your products and services. But when your sign looks rough, broken, dull, or outdated, it can scare customers away rather than draw them inside. As the recent article Sign Stats Matter states, quality business signage is crucial to business success, and "changing the design or enhancing the visibility of signage has a positive impact on sales."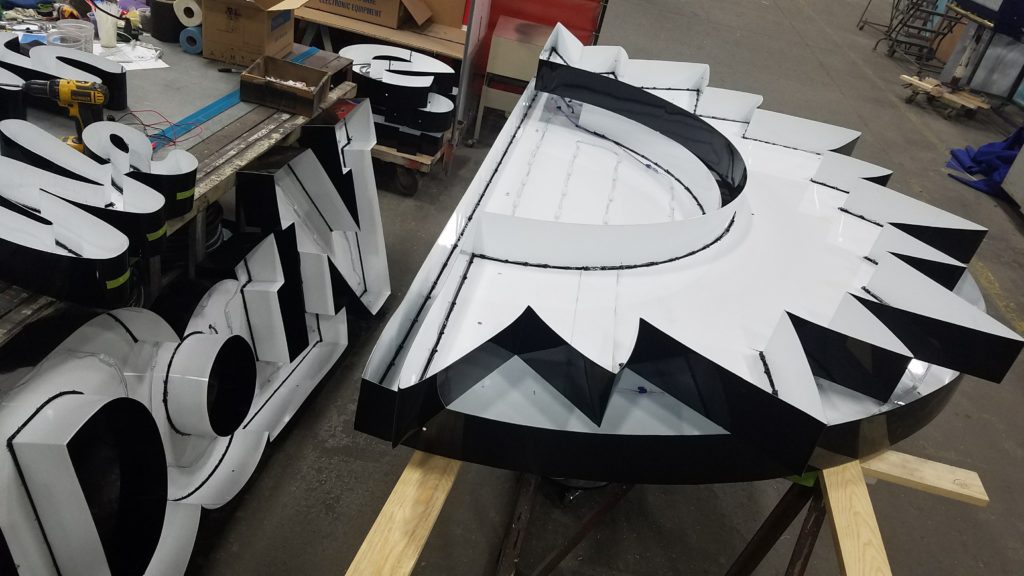 Definition Please
A signage upgrade could mean swapping out neon for energy saving LED. You could replace a manual reader board with an electronic message center, or replace an outdated message center with a brand new one. And don't rule out updating your sign faces with a new company logo, changing out the faces on your channel letters, or taking an old sign from blasé to ooh-la-la with a fabulous new design. A good sign company will consult with you on how to get the best results and the most bang for your buck. What ever you decide to do, the commuters who pass by your sign every day will notice!
Taking Our Own Advice
Since DāNite's "products and services" happen to be signs, we know our signage needs to look its very best! Over 100,000 commuters pass our highway sign on I-71 every day, often twice a day. The last thing we want is to become part of the urban landscape and cease to be noticed. Or worse, be noticed for the wrong reasons. DāNite's highway sign has seen quite a few upgrades throughout the years, and since it happens to be a high profile sign on I-71, we thought it might be fun to tell it's history, and a few of it's secrets, in lieu of the recent upgrade. (Psst… skinny legs, but we'll get to that.)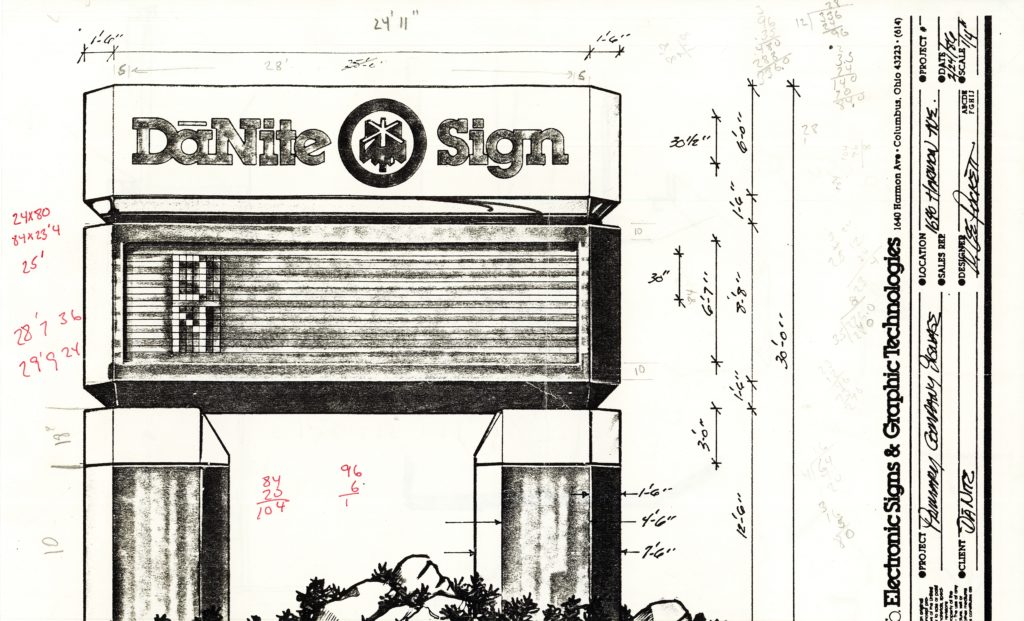 Original Sign
The original DāNite Highway Sign was designed by Lee Puckett in 1986 when the sign's foundation was permitted and poured. Franklin Township was about to change their building code so there was a push to get the foundation "grandfathered" as existing. The original sign design called for a pre-LED, incandescent bulb message center. It also displayed the old DāNite logo, a graphic approximation of a sun dial. But that sign was never built. (You may notice that the first two iterations of the highway sign are hand drawn.)
Too Much of a Good Thing
The old logo and incandescent bulbs are indications of just how much time passed between the setting of the poles and foundation, and the installation of the sign itself. The reason for that? DāNite was absolutely swamped with client work! Previous owner, Cal Lutz, used to joke with his competitors saying, "You'll know we're not busy when our sign finally goes up." It wasn't until 1992 that designer Thad King (still designing for DāNite today), updated Puckett's drawing with a more modern electronic message center and his new sun/moon company logo. King also added fuchsia neon to the pole covers and logo. That sign WAS installed. But it wasn't long before changes were made.
"I Want a Message Center Exacly Like THAT."
Shortly after the sign was installed, a prospective client stopped in after seeing DāNite's message center from the highway. He said "I want a message center exactly like THAT." So Cal Lutz sold it to him… that exact message center. Lutz had been thinking that the original monochrome message center was too small and limiting since it was installed. He jumped at the opportunity to sell the used DāNite message center to AAA Antique Mall in Ravenna. It made everyone involved happy, and the Ravenna EMC is still in use today. DāNite then installed a full color Daktronic's message center. One that Lutz could spontaneously update from his home computer during OSU football games.
Skinny Legs and All
Bigger changes were still coming for the highway sign. Or perhaps "taller" is more appropriate. The City of Columbus built the Franklinton flood wall along the back end of DāNite's property a handful of years after the sign was installed. It required that the sign be raised a whopping 17 feet to be view-able from the highway. Luckily, the poles and foundation had been engineered for a much larger sign, which allowed for the unexpected additional height. Since the bottom half of the sign could not be seen from the highway there was no need to extend the decorative pole covers to the ground. Amusingly, from the perspective of DāNite's backyard, the bottom half of the sign has extremely skinny I-beams for legs. At least they look skinny when compared to the 6′ 8″ wide pole covers that the public can see. Its a great big sign with chicken legs!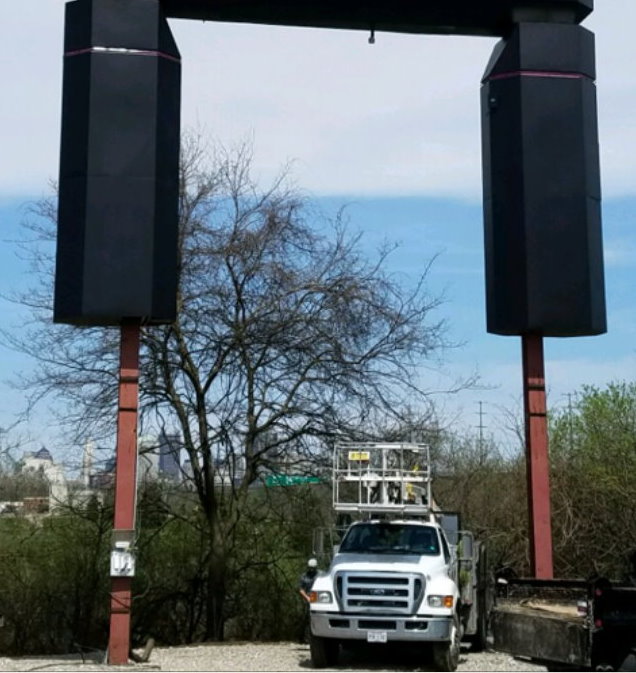 Copycat
Just as an aside, DāNite designed and installed the Ricart Auto Mall sign in 1999 and it was drawn with nearly the exact same body style as DāNite's highway sign. Of course, that is where the similarities stop. Ricart's pole covers actually go all the way to the ground.

Retrofit 2011
Tim McCord bought DāNite Sign Company from Cal Lutz in 2007. By 2011, the technology for LED-illumination had advanced so rapidly that he decided the business would benefit from retrofitting the sign to the super bright and energy saving LEDs. White faces were cut from old router files for the open-faced neon channel letters on the sign, and the neon accents on the pole covers were converted to LED-tubing. The 2011 signage upgrade made the sign far more visible from a greater distance on the highway.
Upgrade 2017
While LED tech was advancing rapidly, computer tech could be described as a speeding bullet. To take advantage of the newest Electronic Message Center technology, DāNite started shopping for the next big thing. The sign's new displays improved the pixel pitch (distance between LEDs) from 32mm to 16mm. That is a staggering improvement in clarity! Web-based software allows employees with password credentials to control the sign from any internet connected device. Also, for the first time in history, there are now message boards on both sides of the sign! The new message boards were bigger than the old ones though. Thad King and Jennifer Bender worked together to re-configure the DāNite logo so it would fit in the available space and still feel like a prominent part of the sign.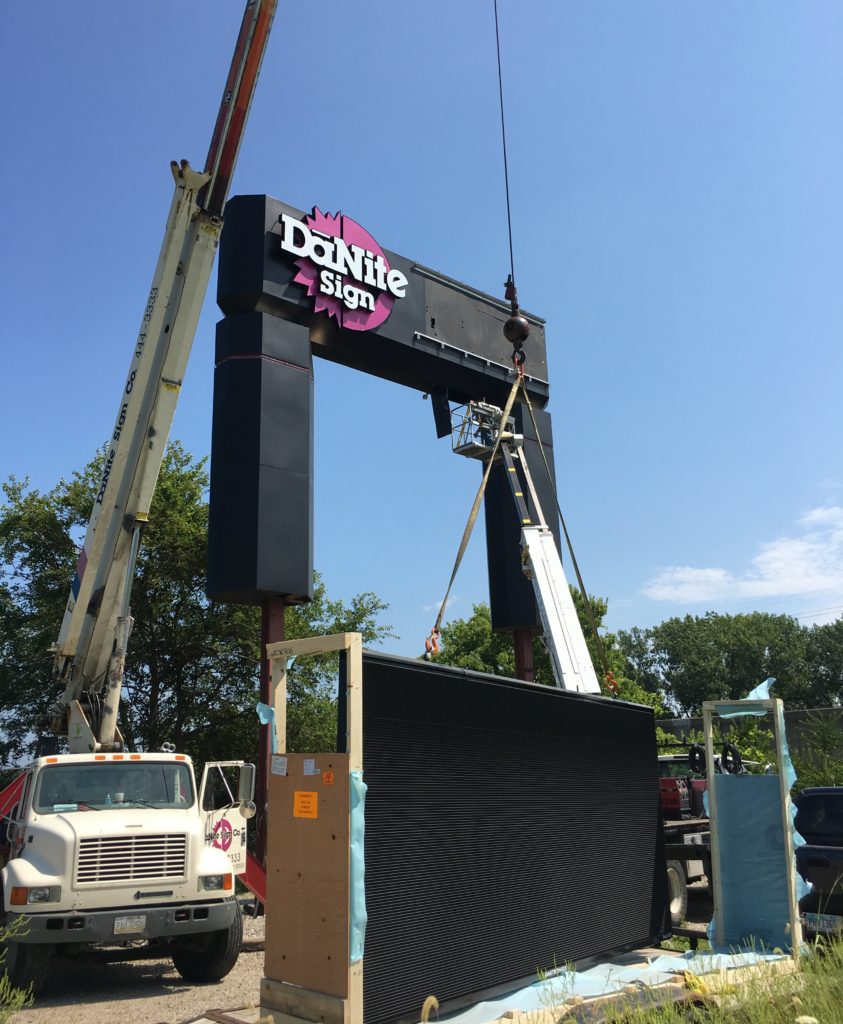 Timing is Everything
Owner Tim McCord said of the recent installation,"It's funny, I had the new digital display boards (aka EMC's) ready to install on our sign late last year.  Just as when the original sign was delayed until things slowed down, it has taken us quite a while to fit our crews into completing our own signage work.  Of course business continues strong so our only option was to extend the work over a few weekends to get the sign updated.  I'm thankful for the dedicated DāNite crews that made it happen!"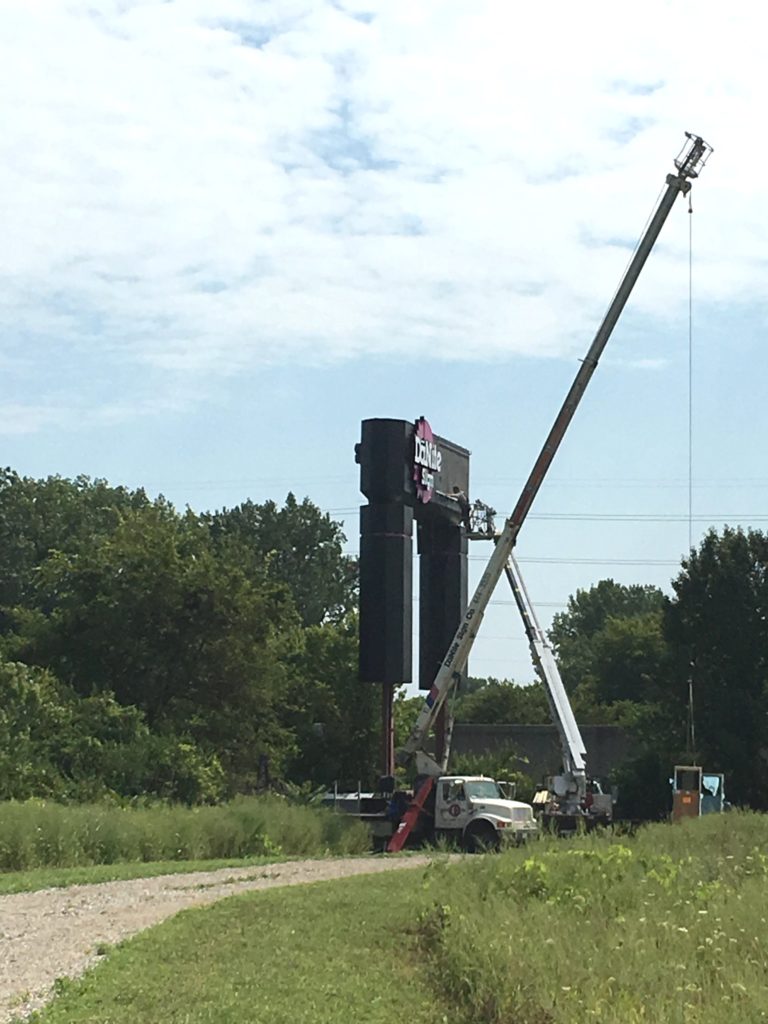 And the final result….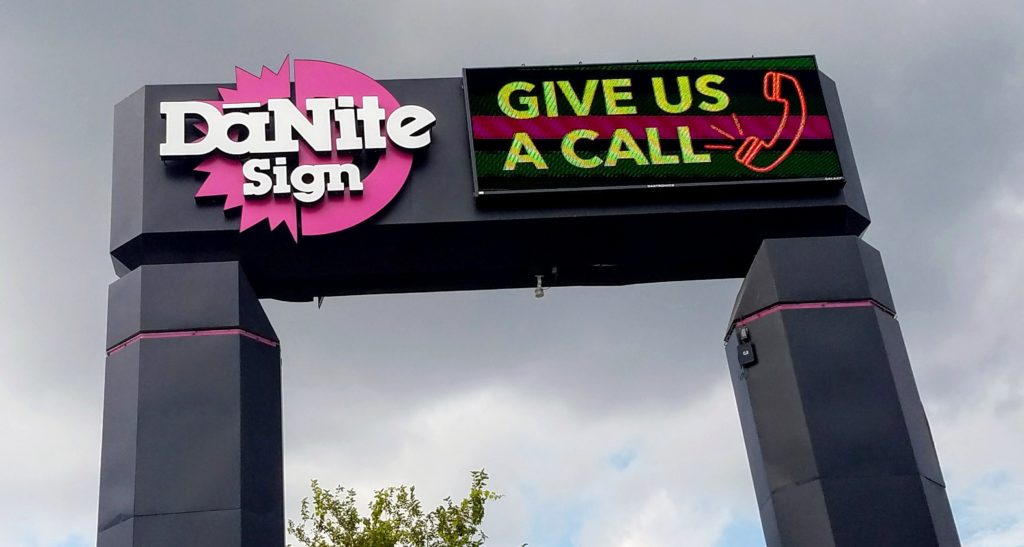 Ch-ch-ch-changes
A great big thank you to DāNite employees Michael Cox, Sr., Thad King, and Tom Seymour, for filling in the blanks on the long history of DāNite's Highway Sign. DāNite Sign Company is exceptionally proud of the most recent signage upgrade. Look for it as you drive down I-71 just South of Columbus near the Greenlawn Road exit.Watch more about the sign's changes and upgrades throughout history in the video below!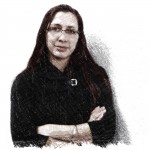 Written By:  Jennifer Bender
DāNite Creative Director & Project Manager
614-444-3333 x216