You Can't Argue with the Numbers
It's a proven fact that there is no more powerful way to advertise your business and services than with signage super-charged with a digital display. These signs go by many different names and acronyms:  Digital Display, Digital Signage, Electronic Message Center (EMC), Digital Message Center (DMC), and LED Display Signs, just to name a few, and they have various applications both indoors and outdoors, but one thing remains consistent. In a world of online advertising and information overload, these signs have risen to an exceptional challenge. They have become the most visually arresting, direct, targetable, flexible, and easily updatable method of communicating your message and disseminating your brand while effectively competing with all the visual noise created by the modern media assault. Digital signage is defined as any type of digital display – typically an LED, LCD, or plasma screen – connected to a computer or playback device. People report that advertising on digital signage catches their attention better than on any other media. These signs exist in the margin between conventional, highly effective forms of advertising like newspapers and billboards, and digital marketing like Google and Facebook ads. Because of their status between tried-and-true and next-big-thing, their incredible flexibility for application and targeting, and the positive social impression they create, they can earn their keep very quickly.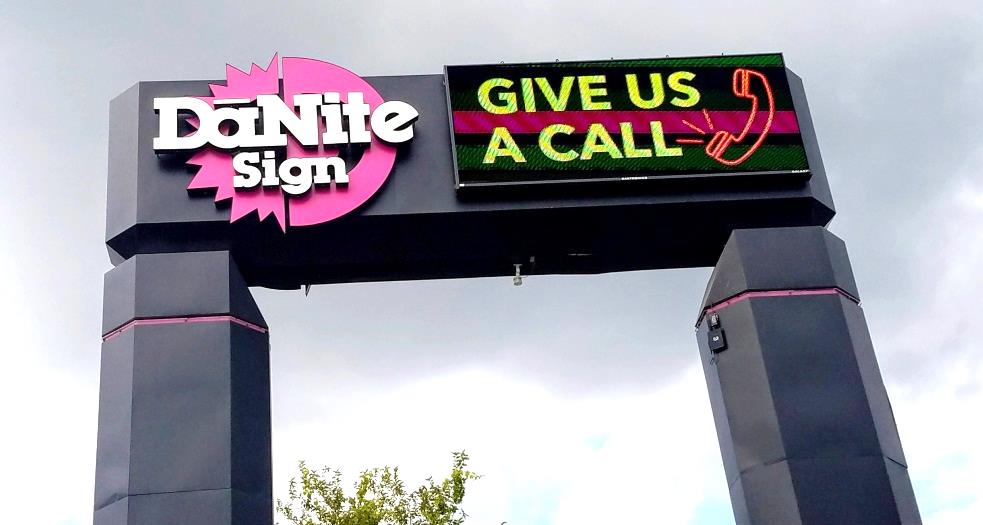 The Why and The How of Digital Displays
Digital signs offer business owners the ability to intercept a target audience's daily routine and then to weave a media strategy in to that commute. Rather than becoming a static part of the landscape, a digital display allows your sign to always feel fresh as you update your content with easy to use software. Some products even come with the ability to update the sign content via cell phone. On a corporate scale, electronic message boards can be centrally controlled to ensure proper and consistent messaging, while simultaneously being customizable at the store level to provide information of value to the local community. Along with an arsenal of messages relevant to a current promotion, or content celebrating an upcoming holiday or event, attention can be garnered with support for local teams, charitable causes, funny sayings, public service announcements, and short alluring sales. The point is that a dynamic message, updated often, will safely and memorably alert the attention of drivers who pass it by, and bring more people through the establishment doors.
The Secret Super Power of the Digital Display 
So much of modern daily life gets caught up in waiting. Captive audiences, while waiting for a traffic light to change, for public transportation in an urban downtown area, waiting for a deli sandwich or bank transaction, feel less intruded upon by digital displays than by any advertisement on television, radio, or the internet. They may, in fact, even be entertained by watching the programmed content while passing the time. This is the secret super-power of digital displays. People actually find them unique and interesting. They tend to appreciate digital displays when incorporated in to traditional signage rather than feeling annoyed by their presence.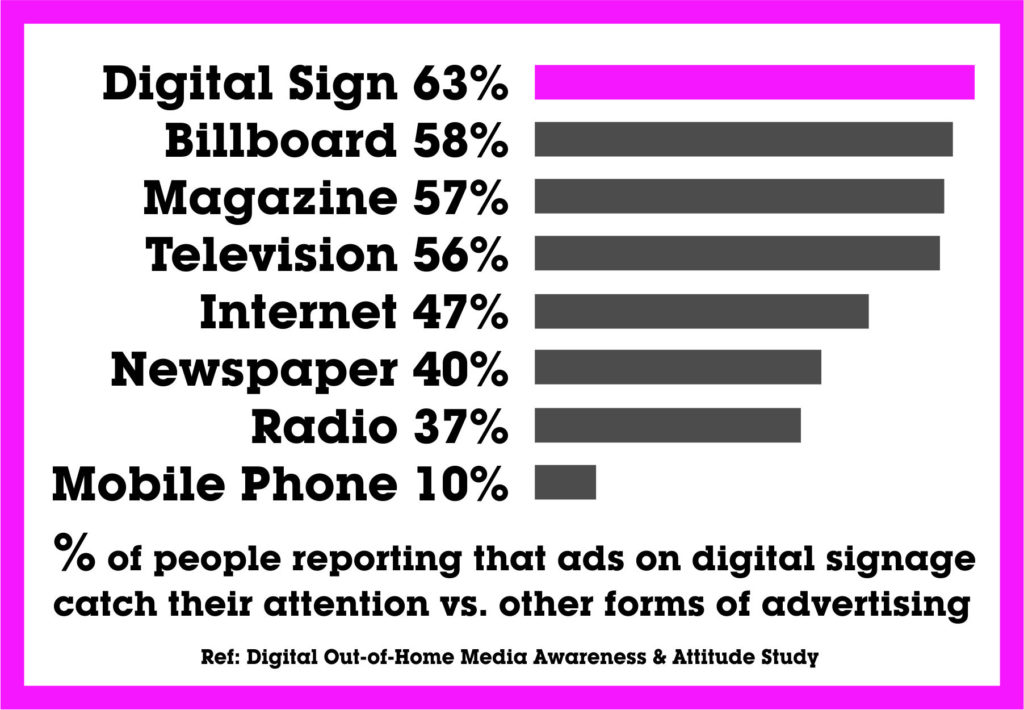 The Small Business Association study "The Value of LED Displays" points to electronic message centers as the most effective and least expensive form of advertising. A newspaper ad might run up to $7.39 per 1000 impressions, and more than $5.00 per 1000 for a radio ad, but LED signs can pull in 1000 impressions for as little as 0.15¢ each! They report that a small business enhancing the existing signage with a digital display can see an increase in business from 15-150%. Even using the smaller number would lead to a very healthy ROI. Check out the relative cost of advertising on an EMC, as compared to other forms of media. It's really pretty low!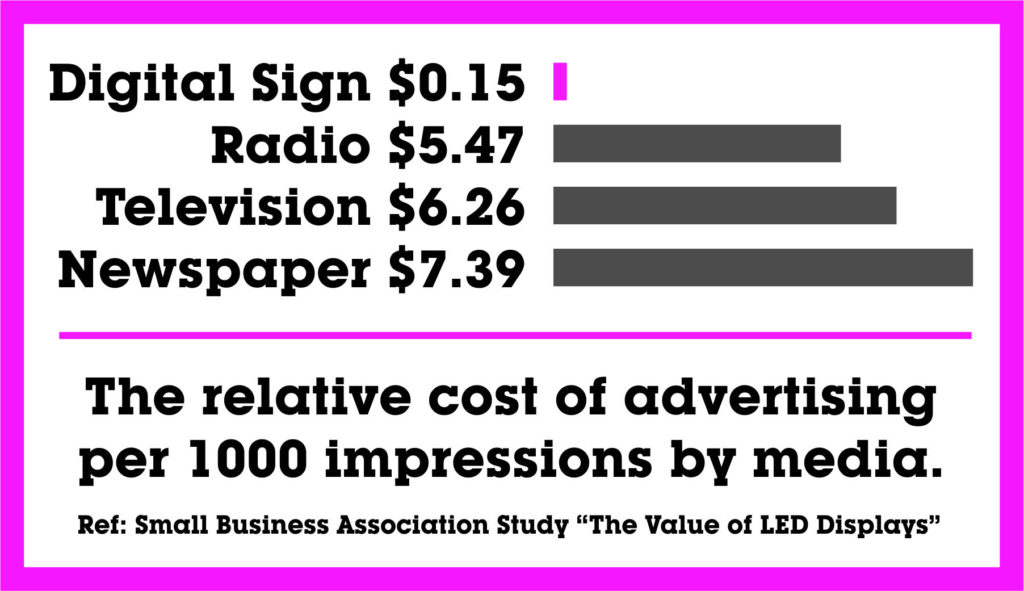 The advantages of including an LED sign are wide-ranging and numerous, with positive business implications at nearly every level. Though the initial cost of a digital display may seem high, a rapid return on investment (ROI), coupled with various financing options, turn LED signs from a safe bet to an ace in the hole, and put a powerful, flexible advertising tool in the hands of small business owner's churches and other non-for-profits, as well as large corporate interests.
Financing a Digital Display Makes Sense
Many business owners, aware of the upfront cost of digital signage, make the mistake of assuming this powerful advertising tool is out of their reach. But financing is a savvy way to pay for an electronic message center. It means less money spent up front and provides you with a manageable monthly payment comparable to an advertising budget. The exciting part is that you may be able to get 100% financing with no money down on signage with digital display. Even better, when doing taxes, the leased equipment may be considered a purchase by the IRS and a deduction in the year purchased. In fact, it's a tax-deductible expense. Be sure to review leasing options, including tax lease and capital lease options, as a way to spread your cash outlay over the period you gain from the signage. A simple financing calculator can predict the suggested range of your monthly financing payment.
Click here for a pdf of the leasing options page & application.
Contact a Reputable Sign Company
If you decide to take the next steps toward an electronic message center, digital display, LED Display Sign , or whatever name you want to call it by, you will want to contact a reputable local sign company to assist with understanding the level of computer tech you want to use to update your sign, cost estimates, payment options, zoning code research, and permit approvals, as well as a great sign design which is custom tailored to meet your specific needs. These are factors that should be handled by trustworthy professionals who understand the sign industry. With the number of options, levels of quality vs. value, and municipal regulations surrounding these signs, it's quite easy to become misled or confused. However, once you have the right Digital Display sign at your disposal you will be free to update and customize your advertising messages, and refresh your visual curb presence at will.