Sign Company Mansfield Ohio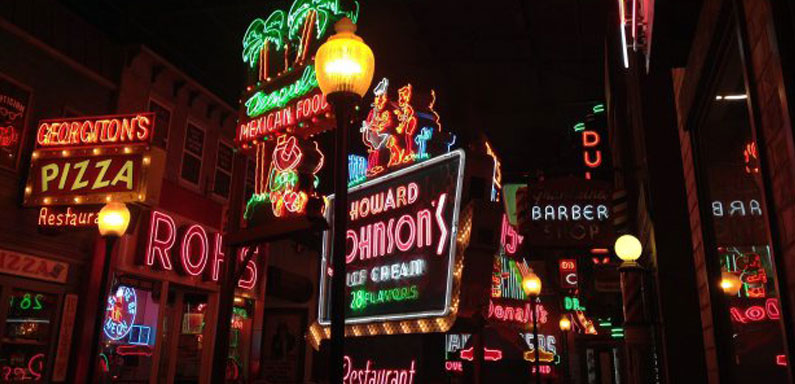 Looking for sign companies in Mansfield Ohio? DaNite Sign Co. is a central Ohio sign company with over 60 years of experience. We design, build, and install a wide variety of commercial signs in Ohio and beyond.
At DaNite Sign Co., we have experience working with all kinds of commercial clients, from restaurants and retail stores to industrial companies and medical institutions. We also work with nonprofits, like schools, churches, and hospitals.
Read more about our sign services below or contact us at (614) 444-3333 to learn more.
Our Services
Custom Sign Design
Need a new sign for your Mansfield business? We can design your sign from scratch or make improvements to your existing signs. Talk to our design team about your vision for your sign, and we'll help you turn that idea into reality. Contact us today to get an estimate.
Sign Building
Our state-of-the-art manufacturing facilities allow us to build all kinds of custom signage. Our skilled fabricators can build anything from simple vinyl signs to 12-foot tall channel letter signs. We build durable, high-quality signage that is made to last. And when we're finished, we recycle as many materials as we can.
Signage Installation
The job isn't finished until your sign is up. Once your new sign is built, we can also transport and install your sign in Mansfield Ohio. We use our knowledge of industry-standard materials, fixtures, lighting, and building codes to professionally install your new sign.
Parking Lot Lighting
Functional parking lot lights keep you, your customers, and your business safer. When they start to fail, it's important to get them fixed. Our team provides parking lot light installation, repairs, and maintenance. Contact us today to get a quote on our parking lot lighting services.
Our Sign Products
Awning Signs
Putting a sign on your awning is a great way to create visual interest, whether it's illuminated or not. We can design banners or a vinyl sign for your awning with our large-scale digital printing technologies.
Channel Letter Signs
We create both face-lit and halo-lit channel letter signs of all sizes. Channel letter signs are ideal for restaurants, retail centers, and many other applications. DaNite will also transport and install your channel letter sign on your storefront.
Digital Display Signs / Electronic Message Centers
Digital signage is a versatile way for your organization to attract new customers. With digital video displays, you can periodically update your sign's messages and graphics to recapture your Mansfield customers' attention.
Freestanding Signs
Make a bold statement with a freestanding sign! DaNite Sign Co. can make freestanding monument signs and pylon/pole signs for your business in Mansfield. We also build and install reader board signs with illuminated sign cabinets.
Interior Signs
At DaNite, we can create internal business signage as well. We build lobby signs, interior way-finding signs, room identification signs, and more. Contact us today to get an estimate on interior signage for your office today.
LED Signs
LED signs are bright and versatile signs that run on a fraction of the energy that neon signs use. If you're looking for a bright, energy-efficient signage option, an LED sign could be a great solution for your business.
Neon Signs
There's nothing quite like the classic look of a neon sign. At DaNite Sign Co., we've been designing and repairing neon signs for over 60 years. If you're going for a retro look, a neon sign could be a good option for your business.
Printed Graphic Signs
DaNite prints traditional banners and wall murals for businesses and other organizations in Ohio and beyond. With our digital printing technology, you can customize your banners or wall murals with different colors, messages, fonts, graphics, custom decals, and more.
Projecting Signs
Projecting signs are attached to a building face or wall and project outward at a right angle. Projecting signs can be illuminated or non-illuminated and are a unique way to catch your customer's attention. Contact us today to learn more about projecting signs.
Solar-Powered Signs
DaNite designs and installs solar-powered signs to help your business save on energy costs. If you plan on putting your sign in a sunny area, a solar-powered sign could be a good option for your business. Contact us today to learn more about our solar-powered signs.
Commercial Vehicle Wraps
Want to advertise your business "on the go" in Mansfield? At Danite Sign Co., we can design and install digitally-printed auto wraps for your vehicles. In a medium-sized city, a wrap on your commercial vehicle can make thousands of impressions per hour in busy areas! Contact us today to learn more about vehicle lettering and graphics wraps.
Vinyl Signs
Vinyl signs are perfect for storefront windows, office windows, conference rooms, and more. Vinyl signs can communicate your brand, advertisements, logos, and graphics with class. Contact us today to get a quote on custom vinyl signage.
Wall-Mounted Signs
DaNite Sign Co. designs, builds, and installs wall-mounted marquee signs, parapet signs, cabinet signs, backlit/halo signs, non-illuminated wall signs, and more. Contact us today to get an estimate on a wall-mounted sign for your organization in Mansfield.
Industries We Serve
Medical Institutions, Financial Institutions, Churches & Nonprofits, Educational Institutions, Shops & Restaurants, Logistics & Industrial, Retail, Developments & Communities, and Car Dealerships.
Recent Projects
Here are some of the signs we've built for other local businesses in the area:
Contact Us Today for Quality Signs and Decals in Mansfield
Simply use our Make-A-Request button or Call us at (614) 444-3333 to learn more about our sign services and request an estimate. We're happy to answer any questions you have or help you schedule a consultation with our team.