Taking the Fear Factor out of Sign Financing
Whether opening or re-branding an existing business, one of the most undeniable contributors to your public image and client draw is signage. Even though signage will likely be the most effective and least expensive form of advertising, the upfront cost can be daunting. This is especially true when an electronic message center, or unique, eye-catching materials are used to draw the customer in. Business owners have competing uses for their cash. We'd like to take the "Fear Factor" out of sign financing, because sacrificing a good sign design or dynamic display due to lack of funds can be disastrous in a competitive business environment. You don't want lose sales to your competitor due to shabby looking or outdated signage, and you certainly shouldn't skimp on new signage while you can benefit from being the "new kid on the block"!  Be smart and make an investment in great signage. It can be a crucial component to your long term business success and prosperity.

Have a Plan
Too often, signage is the last thing to be considered and does not get included in an original business plan. The International Sign Association (ISA) states:  "It's vital that your signage needs be included in your business plan and be a part of your start-up budget. Actually, some loan companies require this and won't issue a loan without it. Signs can usually be included in your small business asset loan; this includes SBA's standard business loans. If your business is already in existence and you are re-branding, updating or just want a new sign, you can still finance your sign through the usual business lending means. Getting a new sign is an investment in your business so be sure to make this case when applying." Your sign company should be able to quote the cost of fabrication, installation, permitting, and engineering so that your ideal sign can be budgeted in to your business plan.

Less Up Front – Instant ROI
Financing is a savvy way to pay for your new sign. It means less money spent up front and provides you with a manageable monthly payment. The exciting part is that your sign can begin delivering a return on the investment immediately. A sign refresh can increase sales by 10% or more, and studies show that 50% of customers entering a new business did so because of the signage. Now that's a healthy ROI! A simple financing calculator can predict the suggested range of your monthly financing payment. There is typically no fee to apply for sign financing and you should receive an answer within a few hours of application.

A List to Consider
One of DaNite Sign Company's direct financing partners, Jay Driscoll at Geneva Capital, provided a few bullet points regarding "what clients usually want to know":
Are there fees to apply for the payment plan?  Be sure to ask, but many don't require any up-front fees to apply.
Is the application process difficult and time consuming?   Some, like Geneva Capital, have gotten the process down to a one page credit application with a few months of business bank statements.
How long does it take to find out if my business qualifies?  Some, like Geneva Capital, can provide an answer within just a few hours of application.
Who will I work with after the agreement is in place? Some, like Geneva Capital are not brokers, so the credit decision is made in-house and your financing stays with them for the term of the agreement
How much of my sign can be put on the payment plan?  This varies, but ask if they offer 100% financing as Geneva Capital will.
How long will I be making payments on my sign?  Typically, you can choose to set the terms from 12 to 60 months.
Do you generally work with organizations like mine?  If you ask Geneva Capital they will say they work with all types of businesses including restaurants, new businesses and churches.
What of my business assets will you put a lien on for me to get my sign?  It's a question you will want to ask, but with Geneva Capital the only collateral in the transaction is the sign. There is no lien on the business.
Secure Financing Early
The ISA adds further tips for sign financing, impressing upon business owners to secure financing early. They state, "Look to your sign, graphics and visual communications company partner as they may finance your sign directly or help you find financing. They typically charge a deposit when an order is placed, and require the balance to be paid when the sign is delivered, so be sure to secure financing early in the process to avoid any delays."
If you are interested in financing a new business sign, or in updating an existing sign, but you're not quite sure how to go about it, don't be afraid to reach out to your local sign company for assistance with contacting a direct financing associate.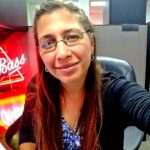 Written By:  Jennifer Bender
DāNite Sign Project Manager & Creative Director
614-444-3333 x216